Success story
Empowering True.nl's Advanced Security Platform with HAProxy Enterprise
Eddie Bijnen
Senior Security Engineer, True.nl

More than 20 years of managed hosting experience
Specialized in designing and creating clustered environments for their clients
Advanced Security Platform built by the most innovative minds in the industry
About True.nl
True.nl is a managed hosting company in the Netherlands that has been helping companies modernize their mission-critical applications since 2000. True supports their customers' services and protects them from threats using their Advanced Security Platform, which harnesses HAProxy Enterprise.
The Challenge
True.nl evolved from hosting only a couple of companies to being the go-to managed hosting provider in the Netherlands, but building a stable, high-quality service didn't happen overnight. Eddie Bijnen explains how True.nl was built with one purpose: to provide their clients with unbeatable security, but the solution, known as the Advanced Security Platform, was not perfect in the beginning. 
"The Advanced Security Platform was too complex and it wasn't marketed properly," Bijnen says. "Clients didn't understand its purpose and our sales team had problems selling it due to the same complexity." Their platform was split between two products—NGINX and HAProxy—which had some overlap between security features, but due to other features missing, both solutions were necessary. The team needed a simpler solution that gave them better performance.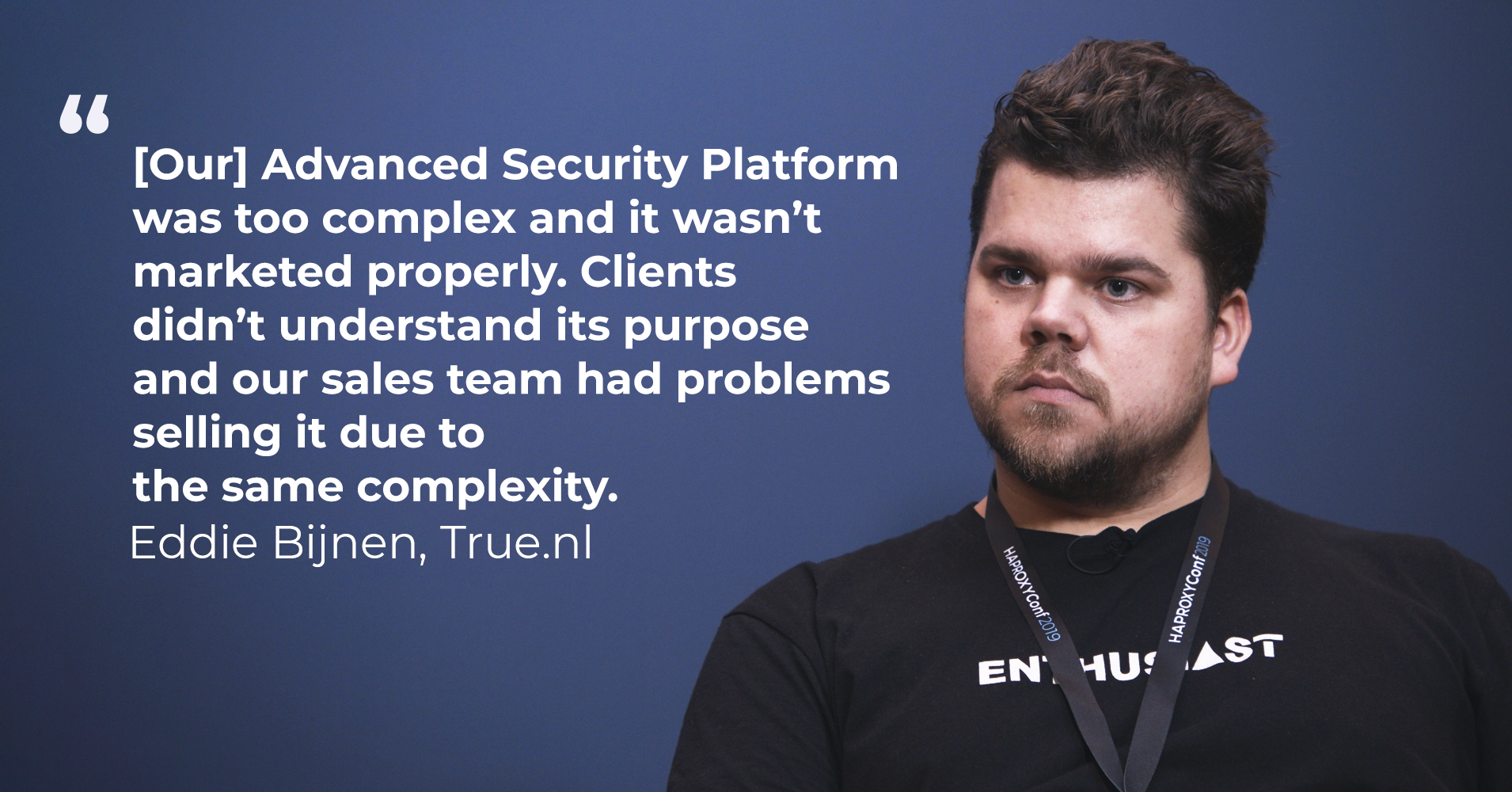 The Objectives
With complexity and performance degradation being the main issue of True.nl's product, they set out to find a solution that would encompass everything they needed in a secure and modern hosting platform. True.nl's passion is, after all, helping their customers and improving their platform until it's as secure as possible for all their current and future clients.
The team needed flexible response policies that allowed them to take actions other than just blocking IP addresses to provide a WAF-like experience on their platform, however, they decided to search for a solution offering an integrated and robust Web Application Firewall. They also needed reliable bot-protection – an integrated security measure in the form of Google's reCAPTCHA or a JavaScript Challenge. The team also believed that the Advanced Security Platform could use more Anti-DDoS security measures. With their objectives set, the team didn't expect the release of HAProxy Enterprise 1.8 which would check off all their needs.
The Solution
Eddie Bijnen was appointed to lead the redesign of the True.nl Advanced Security Platform. With his goals set, the team searched and inquired about possible alternatives to replace their existing infrastructure, and also researched ways to expand their offering for potential clients looking for more than just plain managed hosting. Their search ended quickly since just around that time, the HAProxy Technologies team released HAProxy Enterprise version 1.8. HAProxy Enterprise 1.8 included everything they ever needed to reduce complexity and improve performance: active Health Checks, Hitless Reloads, a robust WAF solution, the JavaScript Challenge module, and more reliable Rate Limiting.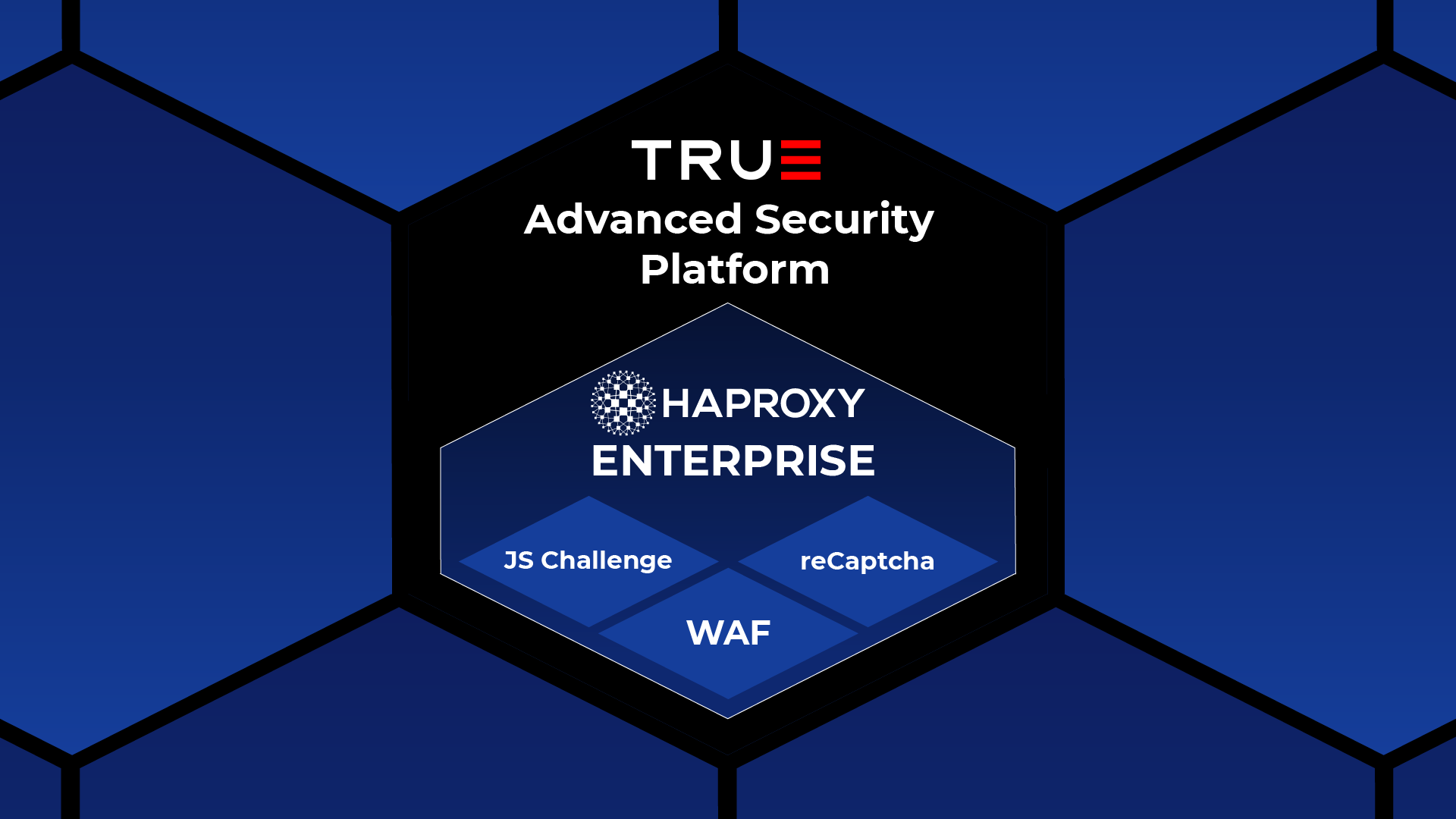 The HAProxy Technologies team went a bit further for them. "Even though we liked the JavaScript Challenge module, we expressed our wish for a reCAPTCHA module for HAProxy Enterprise, which the HAProxy team built surprisingly quickly for us", says Bijnen. The addition led to making HAProxy Enterprise the Swiss Army Knife of their Advanced Security Platform, so all that was needed was implementing it and testing it with real-world use cases.
Even though we liked the JavaScript Challenge module, we expressed our wish for a reCAPTCHA module for HAProxy Enterprise, which the HAProxy team built surprisingly quickly for us
The Results
HAProxy Enterprise is set up to provide Layer 7 Rate Limiting and WAF capabilities, as well as additional Security measures with the JavaScript Challenge and reCAPTCHA modules. All logs are saved and exported to Graylog and the team does additional performance monitoring per server. All of these improvements have increased the stability, performance, and security of their managed hosting business. Most importantly, as the team puts it, HAProxy Enterprise allowed them to create an exciting offering that would satisfy their customers' needs.
Interested to learn more about HAProxy use cases? Explore our Success Stories page.