Well, this project is not really a secret anymore and people start to ask about it, so let me present the beast :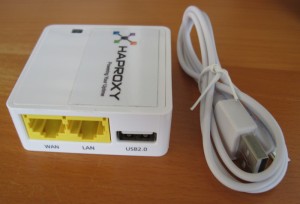 This is the ALOHA Pocket. Probably the smallest load balancer you have ever seen from any vendor. It is a full-featured ALOHA with layer 4/7, SSL, VRRP, the complete web interface with templates, logs… It consumes less than a watt (0.75W to be precise) and is powered over USB. It can run for about ten hours from a single 2200mAh battery. Still, it achieves more than a thousand connections per second and forwards 70 Mbps between the two ports. Yes, this is more than what some applications we've seen in the field deliver on huge servers consuming 1000 times this power and running with 4000 times its amount of RAM. This is made possible thanks to our highly optimized, lightweight products which are so energy efficient and need so little resource that they can run on almost anything (and of course, they are magnified when running on powerful hardware).
Obviously, nobody wants to run their production on this, it would not look serious! But we found that this is the ideal format to bring your machine everywhere, for demos, for tests, to develop on the train, or even just to tease friends. And it's so cool that I have several of them on my desk and others in my bag and am using them all day for various tests. And while using it I found that it was so much more convenient to use than a VM when explaining high availability to someone that we realized that it's the format of choice for students discovering load balancing and high availability. Another nice thing is that since it has two ports, it's perfect for plugging between your PC and the LAN to observe the HTTP communications between your browser and the application you're developing.
So we decided to prepare one hundred of them that we'll offer to students and interns working on a load balancing project, in exchange for their promise to blog about their project's progress. If they need we can even send them a cluster of two. And who knows, maybe among these, someone will have a great idea and develop a worldwide successful project, and then we'll be very proud to have provided the initial spark that made this possible. And if it helps students get a career around load balancing, we'll be quite proud to transmit this passion as well!
We still have a few things to complete before it can go wild, such as a bit of documentation to explain how to start with it. But if you think you're going to work on a load balancing project or are joining a company as an intern and will be doing some stuff with web servers, this can be the perfect way to discover this new amazing world to design solutions that resist to real failures caused by pulling off a cable and not just the clean "power down" button pressed in a VM. Start thinking about it to reserve one (or a pair) when we launch it in the upcoming weeks. Conversely, if you absolutely want one, you just have to find a load balancing project to work on 🙂
In any case, don't wait too much to think about your project, because the stock is limited, so if there is too much demand, we'll have to be selective on the projects we're going to support for the last ones.
Stay tuned!
Subscribe to our blog.

Get the latest release updates, tutorials, and deep-dives from HAProxy experts.