The sun has officially set on KubeCon North America 2023, but the CNCF's flagship event has left a lasting impression on us. Roughly 9,000 Kubernetes enthusiasts descended on Chicago's McCormick Place West to see the K8s community's latest innovations. 
DevOps professionals, engineers, and architects alike were eager to share and boost their K8s knowledge. Overall, HAProxy joined over 250 other sponsor organizations to celebrate open-source, cloud-native technologies over four activity-packed days. During that time, we had hundreds of conversations with attendees covering the technical aspects of Kubernetes and our solutions. Here's what we observed, what we talked about, and what resonated with us. 
Welcoming new and familiar faces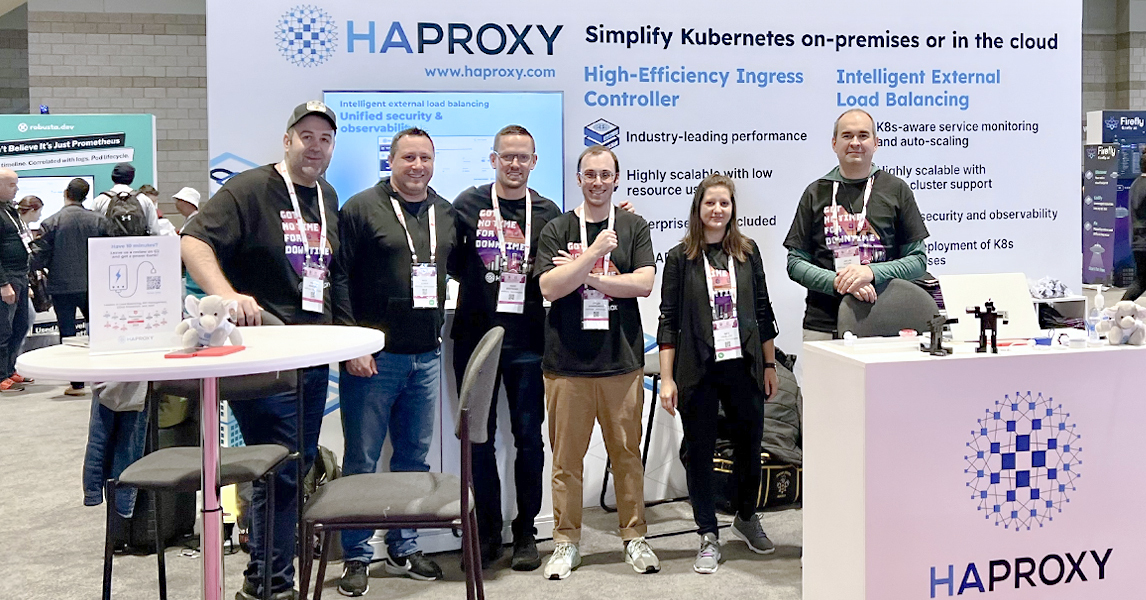 We were truly humbled by the sheer sea of faces visiting our booth. KubeCon 2023 helped us build even more connections than we could've possibly imagined. Your rave reviews made our day—even if you just swung by to say hi!
We were pleased to reunite with familiar customers and outspoken HAProxy fans, as well as those who used HAProxy in the past and were itching to learn what's new. We also had the privilege to meet many who were getting to know HAProxy for the first time—and our team was happy to bring them up to speed quickly.
The conference hosted attendees from numerous industries. Representatives of government agencies, defense organizations, telecomms, tech giants, and more paid us a visit and outlined some of their unique K8s deployments. No matter the industry, Kubernetes is undoubtedly complex, and our simplified approach to application delivery was a massive selling point. 
Plus, watching attendees light up as we presented them with swag items (our elephant Loady plushies stole the show) made our experience so much more rewarding.
Answering a flurry of K8s questions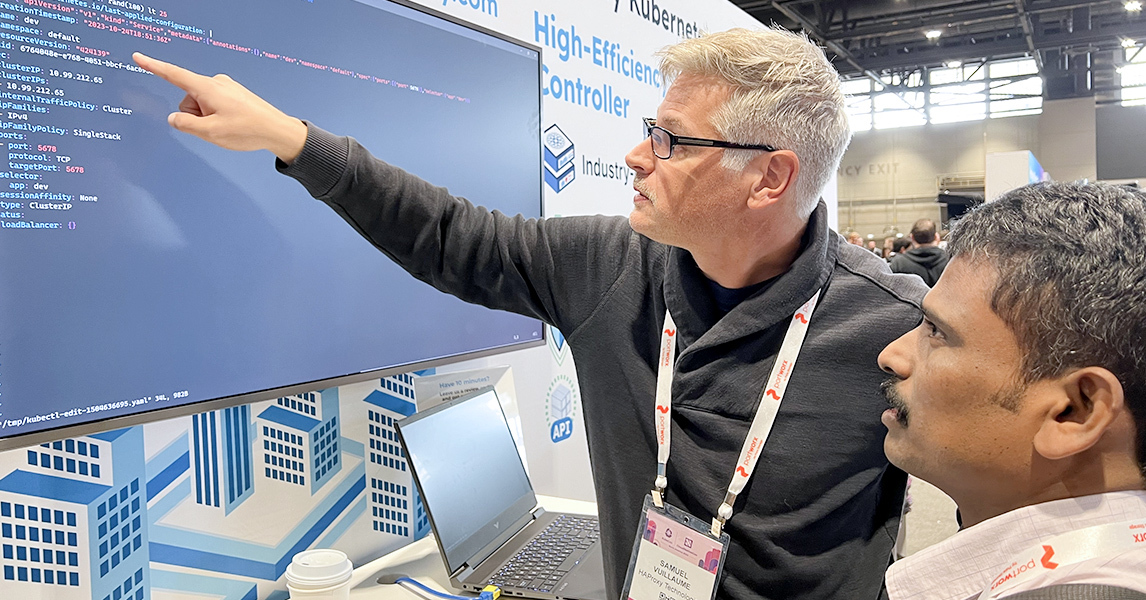 Giveaways aside, our booth staff fielded countless questions about how our products have evolved over the years, our competitive advantages, which integrations we support, and whether or not we're open source (we are!). We learned how critical cloud agnosticism is to many organizations—which is a hallmark of HAProxy and our partnerships. 
Cost was another major talking point. We not only heard this from our booth visitors, but noticed a recurring theme amongst fellow vendors and their messaging. In an industry characterized by increased spending, K8s users are seeking optimal bang for their buck. And in many cases, free solutions (including those from HAProxy) have gained a strong foothold. 
KubeCon reinforced how much K8s is a tool made by developers, for developers. Many conversations dove straight into nitty gritty aspects of deployment, configuration, and management. Not only that, they again highlighted that open-source technologies are so essential. 
We love a good conversation but a picture is worth a thousand words—and a live demo is probably worth ten thousand! Our engineers showcased our latest-and-greatest solutions through technical demonstrations and some clever whiteboarding. The team helped unravel the enigma that is Kubernetes by examining some practical use cases and creating architecture diagrams on the fly. 
Your questions excited us, challenged us, and even inspired us to continue exploring what's possible with Kubernetes and HAProxy. It was great catching up with attendees and learning how HAProxy fits into their Kubernetes playbook.
Exciting new developments in HAProxy's product pipeline
While HAProxy is well-known as a load balancer and reverse proxy, KubeCon gave us the chance to showcase our Kubernetes expertise. 
We've supported Kubernetes ingress for quite some time with our HAProxy Kubernetes Ingress Controller and HAProxy Enterprise Kubernetes Ingress Controller—which enable simplified HTTP traffic routing via one IP address and port. While using the Ingress standard, our solution comes with big advantages in performance and efficiency. 
We also introduced our solution for intelligent external load balancing, which was well-received by enthusiastic attendees. The combination of HAProxy Fusion Control Plane and HAProxy Enterprise can simplify the deployment of Kubernetes on-premises. While a public cloud normally does the heavy lifting to bring edge traffic to an Ingress Controller or directly to pods, on-premises external load balancing deployments are typically complex to implement and difficult to manage at scale. 
HAProxy Fusion uses service discovery to monitor pod services in Kubernetes clusters and automatically configures HAProxy Enterprise nodes to assign public IP addresses and route Layer 4 and Layer 7 traffic to those pods, scaling up or down as services start or stop. HAProxy Fusion provides centralized management, monitoring, and automation using a single API or UI.
Come see us at next year's KubeCon!
KubeCon North America 2023 was a resounding success. We had engaging conversations with HAProxy veterans and newcomers alike, which helped us better understand the evolving needs of the K8s community.
That said, it's time to start turning our attention to KubeCon Europe 2024 and KubeCon North America 2024. We can't wait to bring some exciting new developments your way and see how the Kubernetes landscape changes. We'll also be at AWS re:Invent 2023 in Las Vegas, from November 27th to December 1st. Come see us at Booth 251!
Want to learn more about HAProxy and Kubernetes? 
To dive a little deeper into our Kubernetes solutions and story, check out these helpful resources: 
Our products are always evolving alongside core Kubernetes developments. Stay tuned as we bolster support for K8s, Gateway API, and more in the future!
Subscribe to our blog.

Get the latest release updates, tutorials, and deep-dives from HAProxy experts.