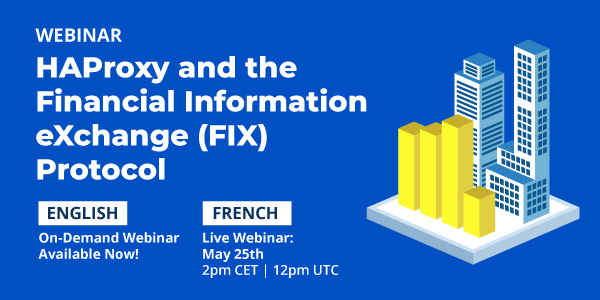 If you prefer to join the French version of the webinar on May 25th, register here.
HAProxy 2.4 and HAProxy Enterprise 2.3 add support for the Financial Information eXchange (FIX) protocol. Financial organizations around the world use FIX as a shared vocabulary for buying and selling securities, allowing trades that bypass differences in country, spoken language, and currency. 
Given how important FIX servers are, it is essential to host them with high availability and enforce security policies. HAProxy achieves that with its high performance and efficient load balancing, TLS offloading, and flexible access control lists (ACLs).
In this webinar, you will learn how to:
load balance FIX servers

route messages based on the Logon message that begins a FIX session

validate Logon messages

implement TLS encryption and implement client certificate authentication

inspect a client's IP address and SenderCompID to authenticate them
Presenter: Daniel Corbett